Staff
---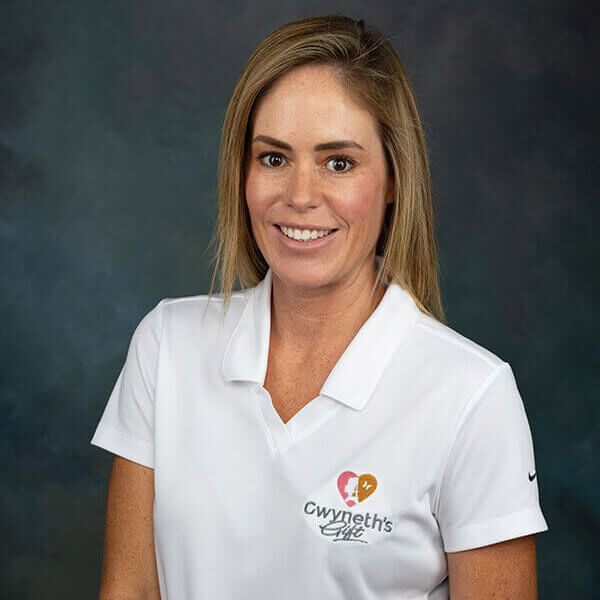 Kathleen Steininger
Director of Operations
Kathleen began her career in the nonprofit world after extensive volunteer work and a previous ​career in public service. As a military kid who has traveled the world she settled in Stafford County after getting her degree from Longwood University and accepting a position as a Sheriff's Deputy. Kathleen has​ had a strong desire to give back and be an active member in her community as demonstrated through her prior leadership of the counties D.A.R.E program. She has​ been with Gwyneth's Gift Foundation since 2017 where she employs her leadership skills as the Director of​ Operations, facilitating the organizations programs and oversight of the day-to-day operations. Being able to save a life is Kathleen's "Why", whether it's a family member​ or a complete stranger, she wants to be able to help someone and make a difference.
Heather Muir
Development Manager
Heather, originally in art and museum education, has been in the non-profit world since graduating from the University of Mary Washington. Working in both public and private schools and museums, Heather began grant writing and fundraising to expand her school programs, and in her volunteer positions. Education, awareness, and community engagement were staples in Heather's family from childhood, so it seems fitting that she has combined her experience and passion at Gwyneth's Gift Foundation.
Veronica Gutierrez
Event Manager
Veronica is a passionate and innovative professional with extensive experience in event management and marketing. She is passionate about event planning and will tap into her knowledge of event planning to develop, coordinate, and create memorable moments that inspire others to give. Veronica believes in giving back to the community and non-profit organizations hold a special place in her heart. She has​ been with Gwyneth's Gift Foundation since 2021. Veronica holds a master's degree in business administration from Loyola Marymount Los Angeles. She is married with three children ages 10, 11, and 24. When she is not full throttle and planning an event, she enjoys the outdoors and running.
Oleta Rivero
Marketing and Public Relations Manager
Oleta began her career as a music program director for a special needs school in North Carolina. In this position, she found a passion for both interpersonal and professional communication. Oleta graduated from Johns Hopkins University with a Master of Arts in Communication, with dual concentrations in Public Relations and Non-Profit/Corporate Communication. As an active-duty military spouse, Oleta has lived in many states across America and in overseas locations. This experience has gifted her great skills in diverse backgrounds as a public relations professional. With Oleta's background within the special needs community and education, she found a calling to join the mission with Gwyneth's Gift in advocating for a Culture of Action.